I will say, there are a fair amount of Shōnen I still have yet to see. If you're wondering why some shows aren't listed (e.g.: Jojo's Bizarre Adventure, My Hero Academia, Gintama, etc), that's probably why. But there are some shows that are quite popular which I don't rank very highly for one reason or another. Perhaps I need an overrated animes post?!
Back to the topic at hand, though: shōnen shows are classic, perhaps what one thinks of when they hear the word anime. Dragon Ball Z, One Piece, Naruto … the classic over-saturated and over-the-top shows we love. You won't find those three in this list, but there are several that are givens. Here are some of my favorite shōnen works!
Hunter X Hunter
Hunter × Hunter follows a young boy named Gon Freecss, who was told all his life that both his parents were dead. But when he learns from Kite, an apprentice of his father Ging Freecss, that he is still alive and has since become an accomplished Hunter, Gon leaves his home on Whale Island to take the Hunter Examination in order to become a Hunter like him. During the exam, Gon meets and soon befriends three of the other applicants: Kurapika, the last remaining member of the Kurta clan who wishes to become a Hunter in order to avenge his clan and recover their scarlet-glowing eyes that were plucked from their corpses by a band of thieves known as the Phantom Troupe; Leorio, a prospective physician who, in order to pay for medical school, desires the financial benefits that Hunters receive; and Killua Zoldyck, another twelve-year-old boy who has left his former life as a member of the world's most notorious assassin family. This show basically follows these boys (namely Killua and Gon) on their quest to become the best hunters and save the world.
THIS SHOW. This show right here. I mean, just look at the cover art: talk about cinnamon roles that could actually kill you! I briefly mentioned how much I loved Killua in this post about my harem, but I'm not sure there are words that exist to describe how much I love these characters. Gon is the epitome of derpy boy who is supers strong/has great power and is missing a father-figure in his life. Killua is the child-abuse victim who's grown up as a killing machine and has forgotten his humanity (as if! look at that smile from my Pikachu boy!). Together, these two make a great team. I will stay that I didn't enjoy the first or fifth (last) season of the show, but seasons two through four were great, specifically three and four–those were fantastic. Did you know Gon and Hisoka (not mentioned here because spoilers but he's super interesting) are gonna be in Jump Force?! Better binge the series before you play the game!
One Punch Man
One Punch Man follows Saitama, an overpowered superhero whose power packs a punch–literally! He has grown bored by the absence of a challenge and in his fight against evil he seeks to find a worthy opponent. He takes on Genos, a justice-obsessed cyborg, as a disciple and together they become professional heroes.
I feel like this show should just be called ONE PUNCH MEME because that's what it is. It's witty and satirical and mocks the genre a bit, while still respecting it.  Awesome. I binged it in four hours. My review also packs a punch! Click the link to check it out.
Blue Exorcist
Blue Exorcist centers on Rin Okumura, who, along with his younger twin Yukio Okumura, was raised by Father Shiro Fujimoto, an Exorcist. One day, Rin learns that he and Yukio are the sons of Satan. Witnessing Shiro dying to protect him, Rin draws the demon-slaying sword Kurikara (倶利伽羅), which restrains his demonic powers. From that moment on, Rin not only gains demonic features like fangs and a tail, but also the power to ignite into blue flames that destroy almost anything they touch. Rin wishes to become an Exorcist like his guardian to become stronger and to defeat Satan. He enrolls at the prestigious True Cross Academy (正十字学園 Sei Jūji Gakuen), an exorcist cram school, which is actually the Japanese branch of the True Cross Order (正十字騎士團), an international organization dedicated to protect Assiah (human realm) from the Gehenna (demonic realm). Much to his surprise, Rin finds that Yukio is already a veteran Exorcist and is one of his teachers. Thus begins Rin's journey to become an Exorcist, accompanied by his brother and his fellow students who quickly become his close friends.
Come for the flame boy and plot, stay for the Kuro.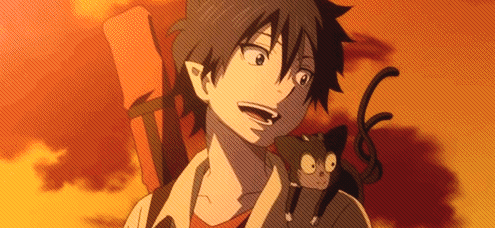 I'm seriously such a sucker for a series with a pet cat. Seriously though, this series balances the silly and serious well. The animation quality is decent; the plot is interesting; the characters are relatable. Plus there's a semi-sibling rivalry. Plus a "townsperson B can fight to"-girl-next-door-type. They also came out with a second season a couple years ago, which was decent. YAAAAAAASSSS. Give it up for my little blue-flamed demon-spawn boy.
D. Gray-Man 
D.Gray-man follows Allen Walker, who joins an organization of exorcists named the Black Order. They use an ancient substance, Innocence, to combat a man known as the Millennium Earl, his demonic army of Akuma and the Noah Family who intend to destroy humanity.
Speaking of Shows that recently got a second season…. D.Gray-man and D.Gray-man Hollow should be mentioned. This series is particularly interesting if you liked the original FMA. Interesting characters and plot–I'm a big fan of Lavi, myself:
Much recommend.
Mob Psycho 100
Mob Psycho 100 follows Mob (obvs), a powerful esper who realizes that his psychic powers are strengthening and becoming more dangerous. To avoid his power getting out of control, he constantly lives a life under an emotional shackle. Mob wants to live a normal life just like the others, but a barrage of trouble keeps coming after him. With the suppressed emotions growing inside Mob incrementally, his power threatens to break through its limits when he reaches 100%.
This show is a bit over-saturated, and I couldn't binge it.  BUT IT IS SO GOOD. Animation quality? Top-notch. Tone? Funny, satirical, serious and dramatic. Wanna know more? Read the review here!
Soul Eater
Soul Eater: focuses on meister Maka Albarn and Soul Eater, her weapon-transforming (scythe) partner and flatmate;  Black Star and his partner Tsubaki Nakatsukasa, who can turn into weapons such as a kusarigama, shuriken, and ninjatō; Death the Kid, and his pistol partners Liz and Patty Thompson. These students attend Death Weapon Meister Academy to train meisters and weapons. The goal of the school's meister students is to have their weapons defeat and absorb the souls of 99 evil humans and one witch, which will dramatically increase the power of the weapon and turn them into "death scythes", weapons capable of being used by Shinigami.
Before we start– this OP is so good for this show. FYI. Cool, now that that's outta the way, let's get down to business. This was one of the first shonen pieces I watched, and I loved it. The concept was cool and well-executed. The characters are lovable and endearing. The mantra was catchy and applicable. To this day I still say "a sound soul dwells within a sound mind and a sound body". No one can stop me.
Ushio & Tora
Ushio & Tora follows Ushio Aotsuki, a high school boy whose family maintains a temple in Japan. 500 years ago, his samurai ancestor battled a monster to a standstill, and eventually trapped him against a rock using a cursed spear called the "Beast Spear", which grants strength, speed, and endurance to the wielder in exchange for his soul. Ushio accidentally unseals the cave in which this monster was trapped. Initially, Ushio refuses to remove the spear pinning the monster down (as the monster made the strategic blunder of mentioning that the first thing he would do upon being freed would be to devour Ushio), but the monster's unsealed presence attracts other monsters to the temple. Ushio is forced to free him, who would like to eat Ushio, but dares not since Ushio keeps the spear close by. Thus, Ushio becomes constantly  stalked and aided by this gigantic, supernatural, and sometimes invisible tiger-like monster, who Ushio names Tora. The series focuses on their relationship, interspersed with battles against mythological foes, and with Tora's attempts to grapple with modern life. During the regular battles, Ushio slowly begins to notice that as much as Tora claims to be irredeemable, the demon takes to fighting evil and defending the innocent with more enthusasim than he cares to admit.
Okay, but seriously. This anime is SO UNDERRATED. Honestly, I tried this out on a whim and ended up loving it–think Natsume and the Book of Friends, but there's a giant spear that gives Natusme long hair and makes him a super badass. It has all the aspects of a shonen classic: boy is pretty average, gains mentor and special role, gains confidence, struggles, becomes the hero who must save the world from destruction… there's even that whole animal best friend thing, which is an unwritten rule of quality shonen anime, to be honest There's a solid balance between badass and dork, and the animation has that whole nostalgic feels-older-than-it-is vibe! Check out these gifs for reference: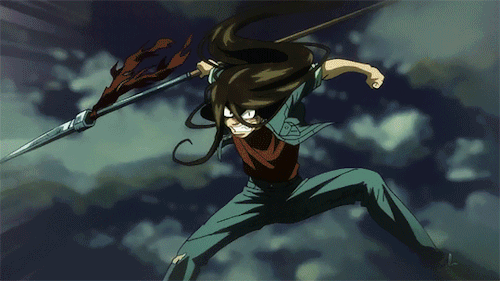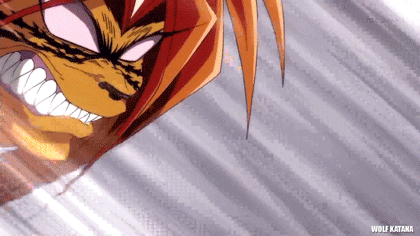 get yourself an anime that can do both, amiright?
Gurren Lagann
Gurren Lagann follows Simon, a meek young digger ostracized by his peers, finds solace in his best friend and older brother figure, an eccentric delinquent named Kamina. Kamina encourages Simon to join his gang, Team Gurren, to help him achieve his dream of visiting the surface world. One day, Simon unearths a drill-shaped key called a Core Drill, followed by a small mecha resembling a face called a Gunmen. Shortly thereafter, a huge Gunmen crashes through the ceiling and begins attacking the village, followed by a girl named Yoko, who attempts to repel the Gunmen. Simon uses his Core Drill to activate the smaller Gunmen (which Kamina names Lagann) and it's drilling-based abilities, and successfully uses it to destroy the larger Gunmen and break through the ceiling to bring him and Kamina to the surface world.
So this show and I  have a very mixed relationship, but ultimately I enjoyed it. Some of the themes addressed were painfully realistic, and really, it's quite the dense coming of age story. If you hate filler, give this one a try: the plot never stops moving. I'm going to be doing a review on this soon, so I won't give too much away!
Magi: the Labyrinth of Magic
Magi: The Labyrinth of Magic centers on the travels of a boy named Aladdin around a strange land in which mysterious ruins called Dungeons are said to house priceless treasures. Together with Alibaba, a friend he met during his travels, Aladdin strives to conquer all of the Dungeons and obtain their treasures. Through all the meetings and partings he experiences along the way, Aladdin will also learn of his own fate.
This series alludes to 1001 Arabian Nights, specifically the tales including Aladdin, Ali Baba and Sinbad the Sailor. The show does a pretty great job interpreting the text and making it enjoyable and entertaining for their anime audience. The characters are fun, the concepts cool, and the animation is nice. I found the plot interesting and binged the whole thing. I was really excited when Netflix released the Adventures of Sinbad, but ended up feeling pretty disappointed. I finished that series, but didn't like it as much as the original.
Food Wars!
Food Wars!: Shokugeki no Soma follows Soma Yukihira, a teenage cook who aspires to  surpass his father's culinary skill while working at their family diner. Joichiro has Soma enroll in Totsuki Saryo Culinary Institute, an elite culinary school where students engage in food competitions called Shokugeki (anime: Food War). He secures himself a spot at the school, despite the objections of Erina Nakiri, the talented granddaughter of the school's dean. Soma is assigned to Polaris Dormitory where he meets other aspiring chefs, including Megumi Tadokoro. The story follows his adventures as he interacts with his peers and challenges Totsuki's students as well as others in shokugeki competitions. Learning that his father was not only a student of Totsuki, but also the second seat in the Council of Ten, Soma plans to become the best at the academy.
FOODHENTAI.FOODHENTAI.FOODHENTAI.FOODHENTAI.FOODHENTAI.
I love this show. I love this show so much. I began watching this when I was studying abroad in England about two years ago, and binged the whole thing in a snap. I couldn't remember the last time a series made me laugh so hard. Probably Ouran High School Host Club. At first, I found the food-porn/orgasms annoying, but then they became hilarious. It wasn't necessarily fan service, but rather a satirical mockery of it.  My brother and sister-in-law would watch this together (while we ate dinner. Don't watch this if you're hungry) after Attack on Titan Season 2 because we needed something to de-stress. This is the perfect solution. Also the first ending song featured is such a bangin' tune.
Read more of what I think about Shokugeki no Soma season three in this review!
The Devil Is a Part-Timer!
The Devil Is a Part-Timer! is about the Demon Lord Satan as he seeks to conquer the world of Ente Isla by annexing its four continents with the help of his demon generals Alciel, Lucifer, Malacoda, and Adramelech. After being confronted by the hero Emilia Justina and her companions after they killed Malacoda and Adramelech, Satan Jacob and Alciel escape the world of Ente Isla through a gate to modern Tokyo, Japan. However, due to the lack of magic in the modern contemporary world, both Satan Jacob and Alciel change into forms representing what they would look like if they were human. In order to survive, Satan Jacob takes a part-time job in a fast food restaurant named MgRonald while Alciel serves as his houseman. One day, Satan Jacob, who now goes by Sadao Maō, meets a girl who is actually Emilia in the form of Emi Yusa. The story then unfolds and explores the personalities of each of the characters and their moral values. More characters show up from Ente Isla and they too face the new world dilemmas, often comically.
Satan works at McDonald's, guys. Sorry, I meant MgRonald's.
This series is a gift. It ranks high on my BUT-WHERE-IS-THE-SECOND-SEASON list, and for good reason. TDIaPT made me laugh when I no longer thought it was possible. The story, while saturated with fantasy, is so relatable. Living paycheck-to-paycheck, having to grind when you've got huge goals in mind, all your friends crashing at your place because no one can afford rent… ah yes: the joys of adulthood. Also Alciel is just a gift to this world: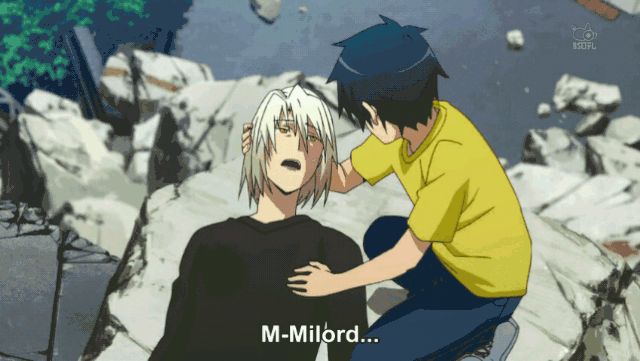 Iconic. What a legend.
Fairytail
Fairy Tail centers on Lucy Heartfilia, a celestial wizard who runs away from home to join Fairy Tail, a guild famous for its members' overly destructive antics. She is invited into the guild by Natsu Dragneel, a fire dragon slayer wizard who travels the Kingdom of Fiore in search of his missing foster father, the dragon Igneel. Lucy forms a team with Natsu and his cat-like Exceed companion Happy, which is gradually joined by other guild members: Gray Fullbuster, an ice wizard; Erza Scarlet, a magical reequipping knight; and Wendy Marvell and Carla, another (sky) dragon slayer and Exceed duo. The team embark on numerous guild missions together, which include subduing criminals, illegal dark guilds, and ancient Etherious demons created by the immortal dark wizard Zeref.
Fairytail was one of the first shonens I watched, so it holds a close place in my heart. While I found the dubbed version atrocious (this often happens to me, making me hate the show before I have a chance to enjoy it), once I switched into the subbed episodes and got to the Phantom Lord arc, I found myself becoming increasingly invested in the characters, the story and the world of Earthland. Like most if not all shonen, you know that Natsu is gonna get himself into trouble, and you just think: how's he gonna get out of this one?! You know he's going to, and you know it's probably going to be more ridiculous than his last escapade. I'm all fired up!
Kill La Kill
Kill la Kill  follows vagrant, scissorblade-wielding schoolgirl Ryuko Matoi on her search for her father's killer. On her quest for vengeance, she engages in violent conflict with Satsuki Kiryuin, the iron-willed student council president of Honnouji Academy. Its students wear Goku Uniforms which give their wearers superhuman abilities because they are constructed with a special material known as Life Fibers. Ryuko, armed with her scissor-shaped longsword that can cut Goku Uniforms, challenges the council whilst on her search. She finds a sentient sailor uniform that she names Senketsu, a Kamui, which is completely made of Life Fibers and transforms her so that she can face Kiryuin, her trials and obstacles.
GIRL 
LEADS 
IN 
SHONEN 
 IS 
 WHAT 
I 
LIVE 
FOR
Read about my opinion in my review!
Attack on Titan
Attack on Titan (Japanese: 進撃の巨人: Shingeki no Kyojin or "Advancing Giant") follows Eren Yeager and his two childhood friends, Mikasa Ackerman and Armin Altert who once lived in Shinganshina. BUT EVERYTHING CHANGED WHEN THE FIRE NATION ATTACKED. Just kidding: they were Titans, not firebenders. When wall Maria is breached by the Colossal Titan with the Armored Titan further compromising their hometown, the three are forced to evacuate. A titan eats Eren's mom. His father disappears after giving him a key to their basement. Eren joins the Survey Corps to fight the titans to avenge his mother and take revenge for all of the loss humanity has suffered.
Not exactly a shonen, tbh. It's more seinen, but still. We'll include it in here for funsies. AOT breaks all the rules, just like it breaks my heart. Did you see my unpopular opinion on the first episode season three? How 'bout my review on season two? Check 'em out in the links!
That's it for me! I know some big ones weren't on the list… which shōnen shows do you give a shoutout to? let me know in the comments below!
Watch on, Anniemeniac!
Annie