"It was like you brought color to my life. You changed my life, all by yourself."

—  Sawako Kuronuma
Summary:
Kimi ni Todoke: From Me to You follows Sawako Kuronuma—dubbed Sadako by her classmates for her resemblance to the character from The Ring—has always been feared and misunderstood because of her appearance; rumors around school report that she can see ghosts and curse people. However, despite her ominous appearance, she is actually a sweet and timid girl who only longs to be able to make friends and be liked by everyone else. When her idol, the popular boy Kazehaya, begins talking with her, everything changes. She finds herself in a new world, making new friends and talking to different people, and she can't thank Kazehaya enough for giving her these opportunities. Slowly, but surely, a sweet love blossoms between the two as they overcome circumstances and obstacles that stand in their way.
Review:      / 5
This show ranks in my top-ten for shoujo shows. It's authentic, placing one foot firmly in the romance/drama genre and the other in the slice of life/comedy one. The themes are realistic and well executed, centering on not only a budding romance, but the florescence and discovery of who they are and who they want to be. We witness their characters as well as their romance develop, ultimately evolving from painfully shy / self conscious to individuals capable of voicing their wants and fears. YAAAAAASSSSS.
The Oblivious Girl trope should have its own trade mark and branding. As should the social outcast seeks friends and crushes on the first person to show her an ounce of kindness. In all honesty, Sawako is the best girl with some brilliant facial expressions. I mean:
Her social awkwardness and obtuseness is what makes her so charming. One might say it's… OUT OF THIS WORLD. 
Puns aside, the only downfall for me about Sawako is that she does fall into the "I'm so plain but I'm actually pretty" caricature. However, considering the context (genre, year, target audience, etc.), this isn't particularly surprising. Her infatuation and idolization of Kazehaya develops into true affection, and does so over time and us well-paced. It's difficult not to be convinced by their relationship, even in the early shots: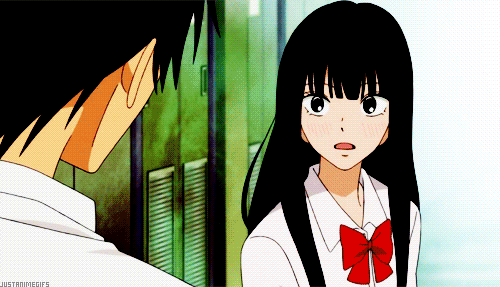 I mean, I might explode from the cuteness. We go from this (genuine friendship) to awkward fluff-fest crush:
The angst-filled, almost nonchalant distancing and denying of their feelings:
and finally graduate to doki-doki heart eyes: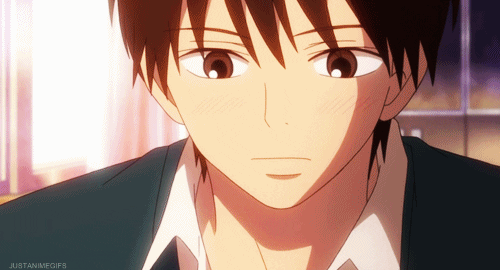 Many were upset with this pacing, but when we look into why, mainly it's that people just wanted them to hurry up and get together. The story was too drawn out. To me, that's denying a key to the series' success: its realism in uncertainty and timidness.  So many shows feel too rushed to me. All of a sudden the characters are together after a smashing confession which their arcs don't support. Sure, the pacing could just be a plot device, a way to make more episodes and in turn more money, but honestly, it's supported by the characters' personalities. It's justified. I DIG IT. 
Where I take off a major point is the inclusion of this punk:
Yes, Kento Miura, I'm coming for you.
Now what bothers me is not the idea of a love triangle / some competition for our leading lad. Rather, it's his shallowness– the flatness of his character is almost an insult to the plot device.
I actually love that seen, to be honest… I'm such a sucker for a little bit of dramatic angst.
So back to Kento: this homie sits next to our cinnamon-roll-Sawako and expresses an interest in her, despite being pretty popular. So far so good. He thinks Kazehaya just pities Sawako and he tries to come between them. Also good. But that's it. That's all we get of this boy who is supposed to act as pivotal plot device. What makes his tepid character more infuriating is we see Kurumi, who is filled to the brim with her own insecurities, desires and motives. Against her vibrant personality, Kento's beige and transparent characterization demonstrates a uncomfortable contrast.
Make this boy his own person. Kthxbye.
Overall, I enjoyed the series! If you're in the mood for a good all-rounder for romance, this is it!
Watch on, Annieme-niac!
Annie