Yes, my dear, dear, Annieme-niacs, we have arrived. The time has come.
Season four of Haikyū has been announced! What a time to be alive!
To celebrate, let's review season one of my volleyball crows.
"Because people don't have wings, they look for ways to fly."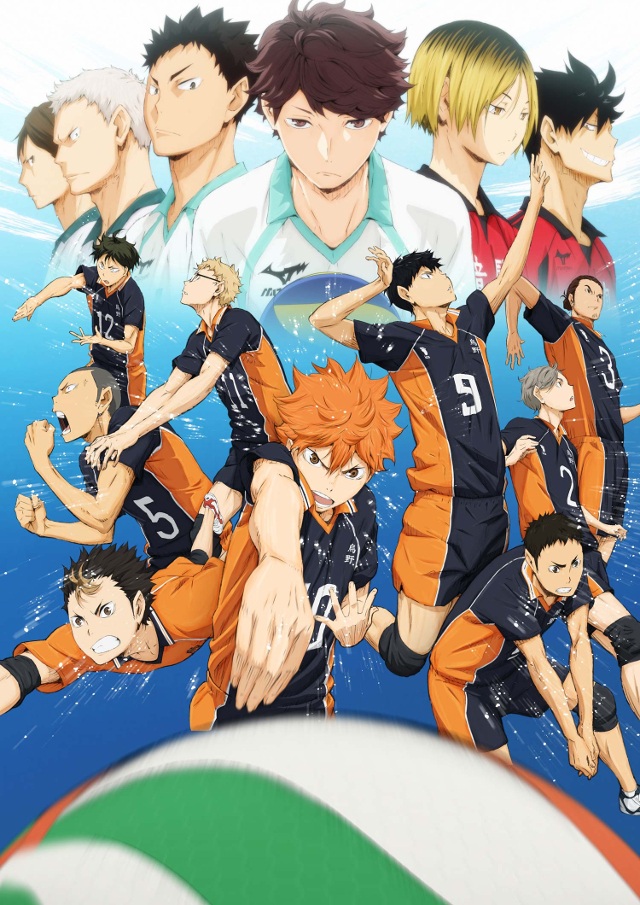 Summary:
Haikyū!! (ハイキュー!!, or "volleyball") follows Shōyō Hinata, an adolescent boy aiming to be the next "Little Giant"– a star volleyball player despite his short stature. After experiencing a crushing defeat in junior high school against the tournament favorites and their "King of the Court", Tobio Kageyama (a setter who aggressively drinks milk), Hinata vows to enroll at Karasuno High School and get revenge with a victory at nationals. However, the two end up as team mates, combining Kageyama's genius with Hinata's reflexes and stamina to create the ultimate duo and crazy quick.
Review: / 5
If you've checked out my top you'll notice I've ranked Yuri!!! on Ice as my number one pick for sports anime. And that's true to an extent. Yuri is more than a sports anime. It has a certain depth and astuteness to it. It's flavored with commentary on mental illness and relationships. But if we're talking about just sports anime criteria, Haikyū!! takes the match. It's gold.
Why, you ask?
It's style is balanced, authentic, and refreshing. If we start with tone and framing mechanics, it's top-shelf. Haikyū channels the sports standard tropes of nakama, humor, competition and passion that we come to expect from the genre. Here's a classic shot from episode 2:

Pretty standard humor, but to be honest, the show rarely uses a slap-sick method. Instead, it focuses on its goofball characters:

… who apparently like throwing air-punches.
But wait: there's more! What separates Haikyū from the other sports anime series is that the show isn't just funny. It deepens the flavor with a staccato dashes of horror. Just look at this iconic shot of Hinata:
Surprisingly doesn't clash at all with the standard goofiness; it enhances it. The polarity between horror and humor intensifies both tones, keeping the series balanced and refreshing. Viewers are on the edge of their seats, despite watching them do similar movements over and over again.
This is a high-intensity moment in the game. Even if you've never seen Haikyū or a sports anime, you can tell that this split-second is crucial and amazing. The boldness in Noya's outlining, the foreshortening and camera angles (framing), the slow-motion–every element is done with a finesse that doesn't fall into cliche.
These themes and tones are, of course, channeled into beautiful animation. This is one of those shows you can pause at any time: they don't cut corners. Take a look at this incredible shot of Asahi's spike:
You can feel the force and power of this kill. And when we juxtapose this shot against Asahi's broken, timid nature, it has an even greater impact.
Speaking of characterization, that's another point where our boys shine. They take time to develop and have realistic arcs. They have proper faults and weaknesses, and we watch them struggle with these throughout the series, especially in season one. And it's not just our team; we see this with Nekoma and Seijoh as well. We care about these characters deeply, and even when our protagonists win, there's an air of bitterness. You don't know how you're rooting for, and unfortunately, not everyone can win.
Ultimately, super excited for season four. This series is one of the ones I've rewatched about five times, and is one of my all-time favorites. It even has a great soundtrack!
What'd you think? Let me know in the comments below!
Watch on, Annime-niac!
Annie