"There's a place you just can't reach unless you have a dream too large to bear alone. We call everything on the ice 'love'."

–Yuri Katsuki
Summary:
Yuri!!! on Ice follows Yuri Katsuki, a 23-year-old Japanese figure skater who experienced a crushing defeat in the Grand Prix Final. He decides to put his career on hold and returns to his hometown of Hasetsu in Kyushu. Yuri visits his childhood friend, Yuko, at an ice rink (Ice Castle Hasetsu) and perfectly mimics an advanced skating routine performed by his idol: Russian figure skating champion Victor Nikiforov. When secretly recorded footage of Yuri's performance is uploaded to the internet, it catches Victor's attention, and he travels to Kyushu with an offer to coach Yuri and revive his figure-skating career.
Review:  / 5
Whenever I bring up Yuri on Ice!!!, someone usually responds with the "YAOI ON ICE" comment. I tend to respond with a quiet chuckle, but inside I am a burning pit of RAGE! The claim YOI is nothing more than cheap fanservice BL is a misinformed and shallow lie. It's a sports anime that isn't merely a sports anime. Lemme tell you why.
Let's get into the authenticity. Here, we have a sports anime, but unlike most of the genre, YOI focuses less on nakama and team because it concerns an individual sport. Nevertheless, it still emphasizes the themes we're accustomed to in the genre: friendship, tenacity and passion. WOOT. It also does a great job in explaining competitive figure skating to an audience that may not be familiar with all the rules, jargon and technicalities. DOUBLE WOOT.
The plot is well paced and easy to follow. There aren't really many loose threads to point out. A personal favorite point for me was the correct use of flashback to enhance a scene and character. We see it mainly with Yurio, and while not all of our questions are answered, they don't need to be. The open ends of the series are bits that the writers can choose to address later, not things that feel glaringly unfair to the audience. It does a great job in capturing the amount of pressure professional athletes must be under. Yuri doesn't take home the cake or the gold medal. YAS! Overall, it gets full points for plot and realism.
Yuri on Ice!!! has incredible characterization, packed with full arcs, roundness and believability. Even minor characters get flaws and goals. King JJ, while annoying at first, becomes a character we can say "yeah, alright. I still think you're annoying, but you're human and I guess I sorta feel for you" by the end of the series.
Our leading lad, Yuri, struggles with both depression and anxiety throughout the series.
His character, and the plot as a whole, center around his battle with these issues: what will he do now that he produced disappointing results at the GPF? The answer: binge eat. But honestly, so much of the series is about his growth–how he gains confidence as well as skill, and the relationships which support him along the way.
What's wonderful and truly special about the series is Victor's love is not a solution to Yuri's mental health. We see this in the following scene with Victor's question: "should I just kiss you or something?". Yuri's response is heartbreakingly authentic.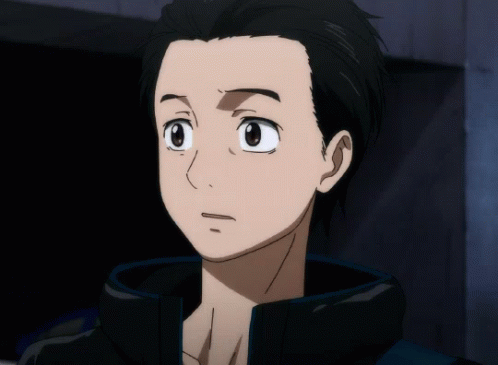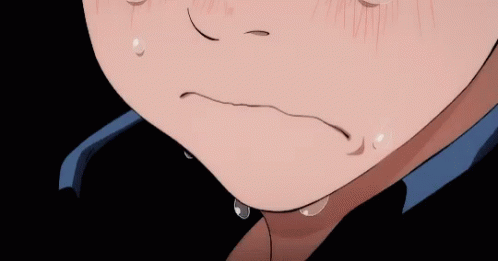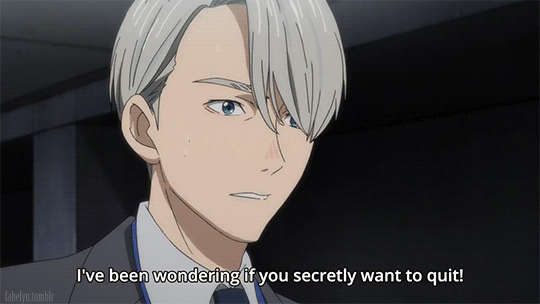 He's ugly crying.
This isn't mental illness romanticized; it's pain. Even the line "I know" is so packed with brutal honesty. I suffer from a lot of mental health issues, including borderline personality disorder. Though I know the people in my life love me, I still am paranoid that they will abandon me. I know they won't, but I feel they will. This polarity of self-awareness and helplessness in mental health is rarely discussed by media, much less in anime.
Victor and Yuri's relationship isn't used as a tool or a device in this show. It's not something that comes easy for the two characters, but reflects the hard work and frustrations of our own. Sure, it does so from an idol and fan perspective. Sure it's full of nudity, stripper poles, unnecessary touching. Yes, we can call that fan service. Yes, they censor the kiss with Victors arm. Yes, the wedding rings are worn on their right hands. You could call that fan service, I suppose. But honestly, I think the creators gave us everything we wanted as fans. We even get a couple skate at the end of the show. There's no way you can call that queer-bait.
Yuri!!! on Ice is a great series. It's deep, beautifully animated with a gorgeous soundtrack. There's a lot to love, so give it a try!
Your thoughts? Let me know in the comments below!
Watch on, Annieme-niac!
Annie