Summary:
Snow White with the Red Hair (Akagami no Shirayukihime) follows Shirayuki, a normal herbalist in the kingdom of Tanbarun with a unique feature: her beautiful red hair. Due to her unusual hair color, Shirayuki was raised to always be careful of showing her hair in new surroundings and grew to be an independent young woman. However, her hair gets her noticed by Prince Raj, who orders her to become his concubine. Refusing his orders, she cuts her hair and leaves it behind as part of what he wanted and escapes to the neighboring kingdom of Clarines. On her way there, she meets and befriends Prince Zen and his two aides Mitsuhide and Kiki. When Zen is poisoned by an apple meant for Shirayuki gifted by Raj, Shirayuki successfully obtains the antidote and decides to accompany the trio to Clarines.
Review:      / 5
So let's talk about guilty pleasure anime– and I'm not just talking about hentai, here– I mean the stuff you're a bit embarrassed to let other weebs know you watch. For me, that's sappy shoujo. Gimme that rom-com lovey-dovey stuff.  I'll pretty much exclusively watch it during a 2:00AM binge session when no one else is awake, but ya know: it's casual.
The series that got me back into romance anime was Snow White with the Red Hair. It's beautifully animated, and is loaded with cliches and awww moments. It undoubtedly resides in the shoujo/romance/fantasy genres,  much like Yona of the Dawn, but I think executes the authenticity with more excellence.
The relationship between Shirayuki and Zen is adorable and one we recognize from countless other stories: the common, beautiful girl and the prince fall in love. Yay. However, What makes Snow White with the Red Hair different is that their relationship is built on individual goals and mutual support. Zen and Shirayuki are their own people: Shirayuki wants to become a court herbalist and Zen wants to be a worthy prince of Clarines. While their love, which begins as friendship, is a powerful motivational force for the two characters, it is not their sole focus. They have dreams and aspirations separate from, though sometimes influnced by, that love. Ultimately, their relationship is healthy and realistic.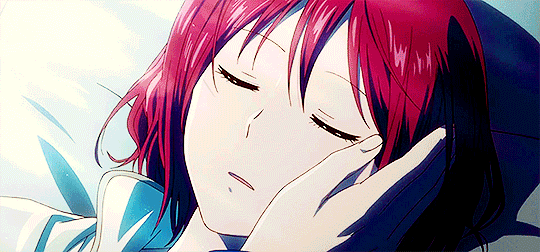 The story alludes to Snow White and the Seven Dwarves, but is by no means a retelling of it. Sure, it has the apple imagery, but don't expect it to be the same. Instead, the plot focuses on the struggles of maintaining a multi-class relationship, as well as discovering what one wants to do with one's life and how to go about doing so. It uses comedy throughout the series to add a lightness to this heavy topic, such as this shot with Zen:
The pivotal moment in their relationship is when Zen finds Shirayuki (slightly) injured, and kisses her (without permission). The two must decide how they feel about each other, and how they should act on those feelings–something many of us struggle with in our own relationships.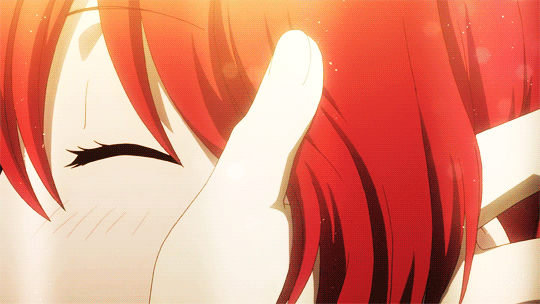 The characterization is good: the characters are round and interesting, they grow and develop throughout the series along with the relationships they make. Because of this, it is difficult to decide who to ship with whom. I mean, just look at this shot of Obi and Shirayuki: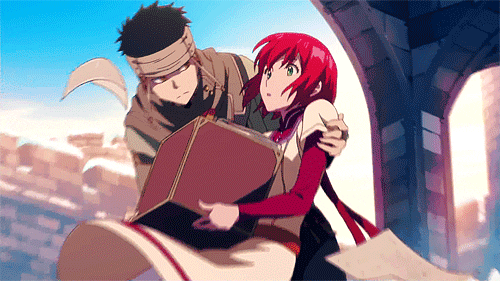 Obi is my favorite character in the series: he provides intrigue, humor, action shots and many other characteristics that make the series so successful: just look at this little cat-eyed boy:
Overall, the series is great and well worth a watch.
Watch on, Annieme-niac!
Annie