When you're in the sea, you can only hear your breathing at first, and then, little by little, that sound slowly melts into the water. And eventually, you can't tell between your body and the sea itself. At that time, I would realize…all is born from the sea."

– Hikari (Pikari) Kohinata
Summary:
Amanchu! follows Futaba Ooki, a shy girl who just moved in from the city to the oceanside town of Shizuoka. She meets Hikari Kohinata, nicknamed "Pikari" for her peppy personality, who quickly becomes her best friend. Pikari gives Futaba the nickname "Teko", and encourages her to take the plunge into the world of scuba diving. Together, they join their school's Diving Club and discover the joys of underwater exploration!
Review:     / 5
IT'S SPRING, Y'ALL, AND YOU KNOW WHAT THAT MEANS: SAKURA TIME IN ANIME!
This series has some beautiful animation, including cherry blossoms, just saying.
Let's start off with the basics: authenticity. It's sometimes difficult for me to discuss it, as the meta data, genres, and creator intention isn't explicit for all series. Sometimes it takes some guess work. At times like these, I usually look at the blurb and the cover image to get a feel for a show to judge what it might be about and whether I want to invest about four hours of my life watching it.
When we talk about authenticity for Amanchu!, I'm not really sure, how to rate it. When I first saw the cover image, I thought, oh, this is a scuba diving sports anime! cool! But honestly, it isn't. It's arguably less about scuba diving and more about coming of age, finding meaningful relationships and discovering what it is you want in life. If you want a show that has a lot of pretty underwater scenes, this one really isn't that. However, if you're looking for a lice of life comedy about two cuties who become best friends and grow, this could definitely bet your cup of tea!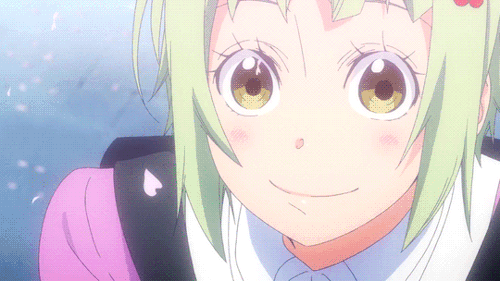 As for realism, it's adequate. The story explains a fair amount about scuba diving, such as ear pressure, buoyancy, and various equipment,  so it's informative. It also makes sense that Teko would start off in a pool and not go straight in to the Big Blue from the get go. The only element which could be considered super unrealistic is eccentric chibi styling we see below.  While I found the cartoon-y faces annoying at first, the consistency and frequency in which they're used offer a solid backbone of realism. The eyes and mouths are unique to the characters, which also provides good immersion.
Character development is okay. Teko's journey into becoming a more confident, open individual is well paced and realistic. I will say, however, if you're expecting other characters besides the protagonist to develop, you'll be disappointed. Pikari, Mato-chan-sensei, as well as the twins don't show meaningful development.
The plot is well executed: we deal with Teko's reliance on photographs (and, more importantly, the balance between the memories they hold), as well as her quest to learn about diving, and dive with Pikari.
For pacing, it really depends on what  you think the show is about. I was initially upset with the lack of open sea diving in the series, because that's what I came here for. But if we're talking about someone who's never swam in their life, never mind diving, the pace of the show is realistically set. Teko would have to get credentials to dive; she would have to put in the time, effort and conditioning to learn the skills needed and build up her endurance. It's more infuriating when characters suddenly know everything they need to know and jump into an activity they were previously unfamiliar with.
Ultimately, it's a fun and simple show. Come on in, the water's warm!
Watch on, Annieme-niac!
Annie