"In this small universe, it's an endless cycle of winning and losing until you start losing your mind. As you gasp 'I don't want to lose'"

– Rei Kiriyama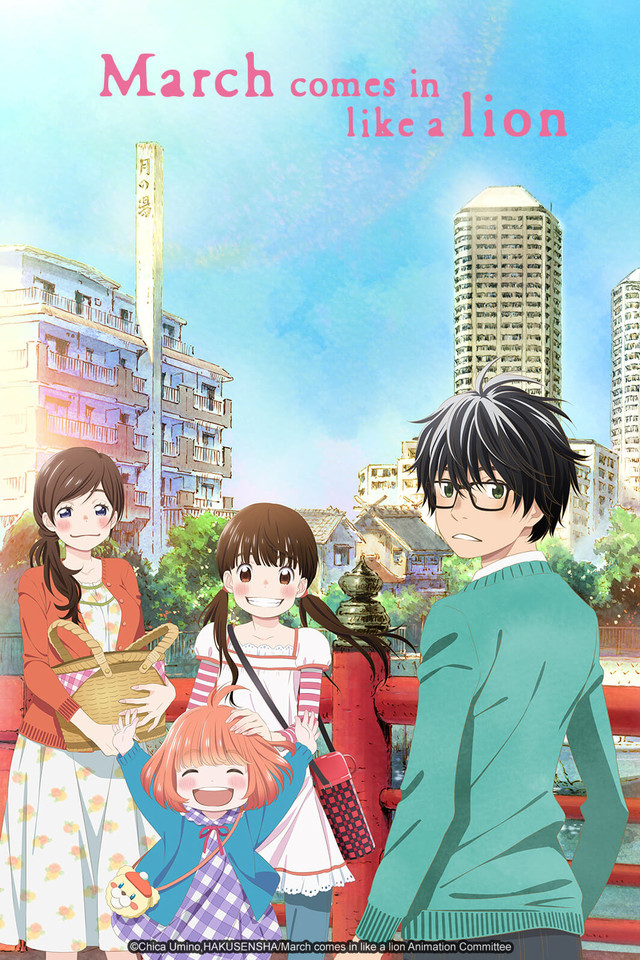 Summary:
March Comes in Like a Lion (3-gatsu no Lion) follows Rei Kiriyama, a highschool student who became a professional shogi player while still in middle school– a feat only accomplished by five people in total. In search of independence and relief from his foster home, he moves into a single apartment in Tokyo. Rei takes poor care of himself, eating solely instant ramen and sweet buns until he meets Akari, Hina and Momo Kawamoto, a trio of sisters who treat Rei as an extended member of the family, giving him the comfort and love he was denied most of his life.
Review:  / 5
Hi there lovelies. I've been horribly sick for the past 24 hours and the only good thing about vomiting blood is when you're not vomiting, you've got some time to have a quality 44-episode binge. I may not be able to fill my belly, but I can fill my heart and soul with great anime. Ah.
We've talked about competitive sports anime, but what about competitive board game anime?! When I thought I might not be able to watch _____ episodes of volleyball, was nothing compared to my thoughts of watching a classic board game popular among old people. HOWEVER, the great anime gods have blessed me, and I can guarantee I wan't bored out of my mind. All aboard the band wagon choo-choo!
Just look at that animation *drools*
In all seriousness, I had a very difficult time finding fault in this anime. And from the first episode, I knew I was in for a bittersweet treat.
The soundtrack (I'm not referring to the openings or endings here, I'm talking about the music and effects in each episode) was stunning. I recognize that I don't usually discuss the soundtrack much in my reviews, after all it's not one of my criteria. But this show is changing my opinions on that. There are some undeniably beautiful soundtracks out there, including some of my favorites like The Garden of Words and Wolf Children. Mostly, these are limited to films, longer works with bigger budgets.
When was the last time I got shivers from a show's treatment of audio assets? Cowboy Bebop? I can't remember, honestly. Most series stick to one genre of music for their background tracks, and March Comes in Like a Lion shatters this trope. Yes, there are the listless pianos and mournful violin melodies. But beyond that, much like the bright and humorous scenes, we're offered breath-fulls of bangers: some sassy synth here in 'A voice that cannot be expressed', a little jig beat there in 'Nikaidou', even whistling! Yes, you heard me right: whistling. It's in '3 Sisters 3.'
It was ghibli-esque with its choice in instrumentation. The range present brought joy to my little band-geek heart. From dancing marimbas in 'Meal', or its percolating glockenspiels, xylophone and low brass combos in 'Enormous', I was delighted.  The changes in literal and figurative tone kept the series edgy and crisp. It's one thing to be able to convey different tones in a series (i.e. through color, facial expression and monologue), it's another to be able to do so on multiple elements: sound, animation texture shifts and the like all work together to create a truly powerful viewing experience. I could go on an on about how truly magical it is, but this review is already going to be long. Check out the full soundtrack for season one here. You won't regret it.
The animation is simply brilliant as well. The style has a grainy-art look to it, similar to Mushi-shi, without bordering on the feeling of cheap or low-quality. Just look at this shot of Rei:
The power behind this monochromatic color scale, the sketchy flavor of freshly-inked art reflect the duality of Rei's own life: his cold loneliness in polar opposition to the welcoming atmosphere of the Kawamoto home. There are other scenes in color which portray a similar light/dark feel, such as this one, with the darkness surrounding Rei as he sleeps and the light coming from outside his window. The cardboard and duct tap covering also makes a striking symbol for Rei's reclusive nature and willingness to stay isolated and alone for much of first episodes:
Other symbols include the water imagery, which often symbolizes depression in the anime. The motifs work really well in this series, and unlike other anime where I've felt it was redundant and cliche, March Comes in Like a Lion manged to keep it feeling fresh and necessary, like with this masking/wave effect when Rei is sleeping:
Or this one, where he's curled into the fetal position, looking like a unborn child surrounded by embryonic fluid.
Rei's depression is apparent long before it's named, and when it is, he says something along the lines of 'I can't even do depression right'. It's rare to find a series which confronts these painful truths about mental illness: the push-pull of wanting to be alone, but not wanting to be lonely.
And from these cold and dark scenes, we step into a different setting, specifically when Akari recharges Rei's phone while he's sick:
It's undoubtedly slice of life, drama, comedy and coming of age all wrapped up into one.
The plot is easy to follow and it makes sense, it's paced well and carries with it all of the points the series sets out to address. Episode ten presents some of the most poignant animation I've seen depicting:
Mental illness and disability
grief and loss
independence
sibling abuse and bullying
We also see for the first time, an emotional outburst from Rei:
He feels guilty for winning, or perhaps he just feels guilty for not wanting to win as badly as the rest of the professional players. Nevertheless, shogi is a game rooted in committed practice, and we also see his frustrations for being blamed for another person's choices. He then talks about playing shogi as a form of survival and escapism. It's what allows him to breathe, to carry the weight of loss and abuse for all of these years:
We also get great characterization for Shimada and Nikaidou, the sisters, as well as his sister: the primary antagonist of the series. While toxic, she's round. Yes, she's manipulative, we might argue crazy, but she's also just a young woman who was told from a young age that she would never be enough to bring her father happiness. Her actions are not justified—there are no excuses for abusive behavior—but they are understandable. We can see how she would approach this point, clutching at a man 20 years her senior as a response to daddy-issues. Overall, I'm happy with where her character is and hope she offers more growth as the series continues into season two.
Ultimately, there's so much that could be said for this work. It's one of my favorites I have seen and I highly recommend giving it a try if you enjoy clashing tones and animation.
Watch on, Annieme-niac!
Annie