Every day that brings us closer to summer brings us closer to autumn, y'all.
While I'm sure there are a lot of people who like summer I'm not one of them. I prefer cold, rainy weather. Why?
Tea
Cat cuddles
Human cuddles
Big, comfy sweaters
Knitting
Not drowning in my own sweat at night
Not being judged for preferring to be inside watching anime
It's part of the reason I spend half of my time in the Pacific Northwest of the US and the other half in the UK.  But anyway, to fight the summer blues, here are my top favorite anime for cozy days, including five shows and five films!
10. Garden of Words
On a rainy morning in Tokyo, Takao Akizuki, an aspiring shoemaker, decides to skip class to sketch designs in a beautiful garden. This is where he meets Yukari Yukino, a beautiful yet mysterious woman, for the very first time. Offering to make her new shoes, Takao continues to meet with Yukari throughout the rainy season, and without even realizing it, the two are able to alleviate the worries hidden in their hearts just by being with each other. However, their personal struggles have not disappeared completely, and as the end of the rainy season approaches, their relationship will be put to the test. A bit more dramatic than the rest on the list, Garden of Words offers some of the most beautiful animation out there. Its rain leaves me breathless every time I watch it! Perfect for a cup of tea and a snuggle.
9. Natsume's Book of Friends
An unconventional and supernatural slice-of-life series that follows Natsume as he, with his infamous protector Madara, endeavors to free the spirits bound by his grandmother's contract. We've talked about Natsume a lot recently… sorry. But it is one of the chillest shows out there. Needless to say, a very good choice for them cozy feels.
8. A Silent Voice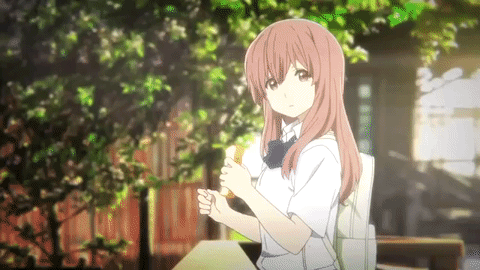 As a wild youth, elementary school student Shouya Ishida sought to beat boredom in the cruelest ways. When the deaf Shouko Nishimiya transfers into his class, Shouya and the rest of his class thoughtlessly bully her for fun. However, when her mother notifies the school, he is singled out and blamed for everything done to her. With Shouko transferring out of the school, Shouya is left at the mercy of his classmates. He is heartlessly ostracized all throughout elementary and middle school, while teachers turn a blind eye.
Now in his third year of high school, Shouya is still plagued by his wrongdoings as a young boy. Sincerely regretting his past actions, he sets out on a journey of redemption: to meet Shouko once more and make amends.
This piece is really heartwarming, and as we know from my last post, I love a good redemption arc. If you're looking for a bad guy turning good, this may be the choice for you!
7. How to Keep a Mummy
High school student Sora Kashiwagi is accustomed to receiving bizarre presents from his father, who is on an expedition around the world. Unfortunately, these gifts have been nothing but nightmares. As a result, when his father sends him a huge package from Egypt, Sora prepares himself for the worst, only to be greeted by Mii-kun—a cute, pint-sized mummy! While initially wary, Sora soon learns that Mii-kun is harmless, a delicate creature yearning for attention.
Throughout their amusing day-to-day lives, the unlikely pair meet other people with unique pets, while also strengthening their bond together. Although keeping a pet is a difficult task, Sora is set on caring for the lovable Mii-kun.
This series is so fluffy, you might as well be in clouds for the day. Magical friends where everyone is the best boy.
6. Wolf Children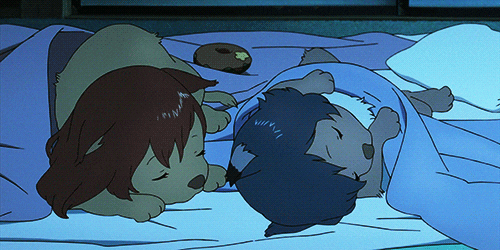 Hana, a hard-working college student, falls in love with a mysterious man who attends one of her classes though he is not an actual student. As it turns out, he is not truly human either. On a full moon night, he transforms, revealing that he is the last werewolf alive. Despite this, Hana's love remains strong, and the two ultimately decide to start a family.
Hana gives birth to two healthy children—Ame, born during rainfall, and Yuki, born during snowfall—both possessing the ability to turn into wolves, a trait inherited from their father. All too soon, however, the sudden death of her lover devastates Hana's life, leaving her to raise a peculiar family completely on her own. The stress of raising her wild-natured children in a densely populated city, all while keeping their identity a secret, culminates in a decision to move to the countryside, where she hopes Ame and Yuki can live a life free from the judgments of society. One of my favorite films of all time, Wolf Children is incredible. Beautiful soundtrack and animation, incredible characters. What more could you ask for?
5. Sweetness and Lightning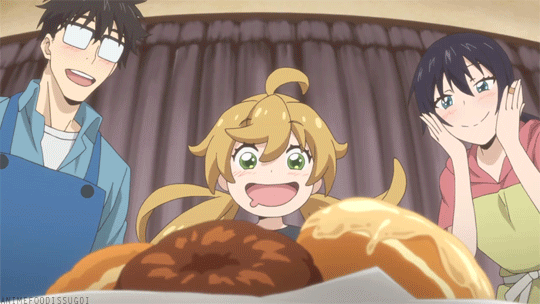 Since the death of his wife, Kouhei Inuzuka has been caring for his young daughter Tsumugi to the best of his abilities. However, with his lack of culinary knowledge and his busy job as a teacher, he is left relying on ready-made meals from convenience stores to feed the little girl. Frustrated at his own incapability to provide a fresh, nutritious meal for his daughter, Kouhei takes up an offer from his student, Kotori Iida, to come have dinner at her family's restaurant. But on their very first visit, the father and daughter discover that the restaurant is often closed due to Kotori's mother being away for work and that Kotori often eats alone. After much pleading from his pupil, Kouhei decides to continue to go to the restaurant with Tsumugi to cook and share delicious homemade food with Kotori.
Amaama to Inazuma follows the heartwarming story of a caring father trying his hardest to make his adorable little daughter happy, while exploring the meanings and values behind cooking, family, and the warm meals at home that are often taken for granted.
A series that gives me the same feeling I get when I look at donuts.
4. My Neighbor Totoro
In 1950s Japan, Tatsuo Kusakabe relocates himself and his two daughters, Satsuki and Mei, to the countryside to be closer to their mother, who is hospitalized due to long-term illness. As the girls grow acquainted with rural life, Mei encounters a small, bunny-like creature in the yard one day. Chasing it into the forest, she finds "Totoro"—a giant, mystical forest spirit whom she soon befriends. Before long, Satsuki too meets Totoro, and the two girls suddenly find their lives filled with magical adventures in nature and fantastical creatures of the woods.
I don't even need to say anything. This film is a given, really. Also that cat bus, though.
3. Miss Kobayashi's Dragon Maid
As Kobayashi sets off for another day at work, she opens her apartment door only to be met by an unusually frightening sight—the head of a dragon, staring at her from across the balcony. The dragon immediately transforms into a cute, busty, and energetic young girl dressed in a maid outfit, introducing herself as Tohru.
It turns out that the stoic programmer had come across the dragon the previous night on a drunken excursion to the mountains, and since the mythical beast had nowhere else to go, she had offered the creature a place to stay in her home. Thus, Tohru had arrived to cash in on the offer, ready to repay her savior's kindness by working as her personal maidservant. Though deeply regretful of her words and hesitant to follow through on her promise, a mix of guilt and Tohru's incredible dragon abilities convinces Kobayashi to take the girl in.
One of my favorite slice of lifes. Very funny with some heartwarming moments!
2. The Wind Rises
Before the Great Kanto Earthquake of 1923, before the great war that tore Japan asunder, Jirou Horikoshi lived in a world of dreams – dreams of flight, and dreams of making the world a better place.
The Wind Rises is the story of the man who created the Mitsubishi A6M Zero fighter, the most famous airplane in Japanese history. From his childhood in Fujioka, Jirou dreamed of designing flying machines like his hero, Italian aviation pioneer Giovanni Battista Caproni. Through disaster, romance, war and loss, Jirou continues to chase that dream – learning along the way that once released into the world, dreams can take on a very different shape.
This film makes me cry. Every time. Maybe I'm more sentimental now that I'm ill with no indication that I'll ever get better, but this film is, in my opinion, Miyazaki's greatest work.
1. March Comes in like a Lion
Having reached professional status in middle school, Rei Kiriyama is one of the few elite in the world of shogi. Due to this, he faces an enormous amount of pressure, both from the shogi community and his adoptive family. Seeking independence from his tense home life, he moves into an apartment in Tokyo. As a 17-year-old living on his own, Rei tends to take poor care of himself, and his reclusive personality ostracizes him from his peers in school and at the shogi hall.
However, not long after his arrival in Tokyo, Rei meets Akari, Hinata, and Momo Kawamoto, a trio of sisters living with their grandfather who owns a traditional wagashi shop. Akari, the oldest of the three girls, is determined to combat Rei's loneliness and poorly sustained lifestyle with motherly hospitality. The Kawamoto sisters, coping with past tragedies, also share with Rei a unique familial bond that he has lacked for most of his life. As he struggles to maintain himself physically and mentally through his shogi career, Rei must learn how to interact with others and understand his own complex emotions.
In the second season, Rei even refers to the Kawamoto household as a Kontatsu, embodying feelings of safety, family and a welcoming home. This series is eloquent, and makes me wanna cuddle the kitties.
That's all for today! What are your choices for snuggly anime?
Watch on, annieme-niac!
Annie