Hey everyone! I've been away for a bit because, well, life is hard. Many of you know I'm very sick and struggling with how to get better without health insurance or funding for the tests I need. It is difficult at times to keep hope and that transpires into my writing life as well. I've got several half-finished pieces in my draft box, but my endurance is strained and my will fizzles out a little bit more each time I collapse. It's truly a frustrating and debilitating experience.
That all being said, anime offers one of the kindest forms of escapism. It's no surprise that I've been binging through series while bedridden and you can stay up to date by following me on MAL. I've got a short post for you today, outlining some of my favorite anime worlds in which I'd love to live. Let's a go!
Ancient Magus Bride

Set in the English countryside, but with spells, cuddly creatures and dragons, Chise's world is full of wonder. Can we also appreciate that this is a Great Britain that doesn't get too hot–but also seemingly never really rains?– perhaps this is too good to be true!
Hunter x Hunter

Monsters, treasures and adventure! The questionably familiar map of HxH charts a world of hidden discoveries. It's one that offers a path for the reckless, strong and determined. If you pass this intense exam, you'll be permitted to travel to any country and guaranteed work.
Howl's Moving Castle
Hot wizards! Fire demons! Portal doors! Oh my! I could sub in any number of Ghibli/ Chizu film settings here, but HMC is my personal favorite. It's picturesque scenery always leaves me breathless and that meadow— strait out of my romantic heart's dreams! Considering I'm already an 85 year old woman on the inside–armed with knitting needles and raspberry jam recipes–I wouldn't mind being one on the outside, too.
Snow White with the Red Hair
While I don't talk politics on this blog, I'mma just go ahead and say that as a person who's from the US and left her heart in the UK, the current immigration policies are, at minimum, incredibly ineffective. They're meant to keep people out.  Nationalism, grr. THIS SERIES though, is brilliant. Girl is able to immigrate to a different country to be close to her boy with no problems. Girl wants to offer her own unique skills–even though there is no current shortage of those skills in that country–and is accepted for a position purely based on her merit. I wish it were that easy in real life!
Gintama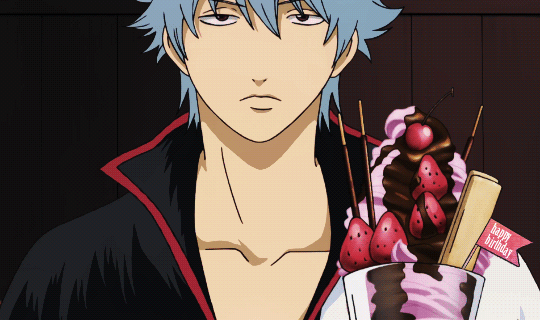 Okay, but the idea that you can be in poverty and not having to worry about 1.) housing or 2.) food, is really appealing. Gin always has access to sweets, despite not being able to afford rent. Add into that the samurai/edo period mixed with modern technology? Hell yeah– sign me up!
What about you? What are some of your favorite anime worlds?
Watch on, annieme-niac, and thanks so much for reading. 💙
Annie
Honorable mentions: