Day 2: First Favorite Sport Anime Character
Yuu Nishinoya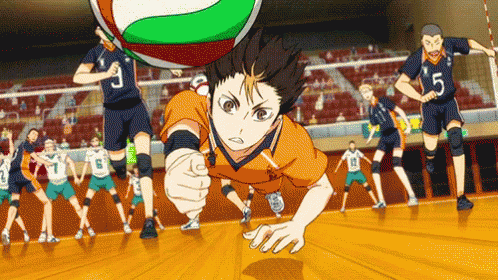 I mentioned yesterday that Haikyuu!! was my first sports anime, and my favorite character from the series is my Libero spark-plug, Nishinoya. Noya is the true spirit of Karasuno's team: his grit, determination and talent make him one of the most reliable team members, second only to Daichi.
He earned his nickname, the Guardian Deity of Karasuno. The team is able to make risky plays and take chances in the air-battles because they know, without a doubt, Noya has got their back and the floor. He radiates positivity and unwavering confidence. Even when Karasuno has their backs against the wall and are overlooked as underdogs, he refuses to let his team become discouraged or despondent. He sees a challenge and he faces it head on with boundless opportunity for growth.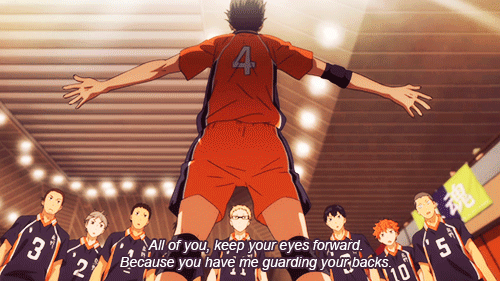 He's admittedly one of the most intense and talented players on Karasuno's team…
But is also a major dork.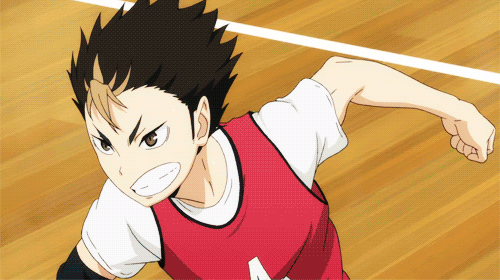 Furthermore, he's a great Senpai.
His position is one that's often overlooked, because it can't score points or do fancy smashes or kills. Liberos are quarantined to the floor, never playing the full time of any game.  Almost always, these are short players who cannot take on blockers. However, this fierce boy is anything but a flightless crow. Lemme assure you, his wings are still intact, and he makes full use of them on the court.
Bonus points:
He looks great with his hair down. Even if it makes him shorter.
That's all for today! Who's your favorite volleyball nerd?
Watch on, Annieme-niac!
Annie