Hiya cool cats.
During the Bad Time there was one system that kept me on the ball. Without it, I probably wouldn't have done hula, finished my thesis, graduated or gone to England. Honestly, I probably wouldn't have remembered to take my meds or go to counseling. That system is my variation of bullet journaling.
Bullet Journal Basics
What's a bullet journal, you ask?
In short, it's a form of rapid logging that helps organize tasks, events, notes, lists and other stuff. Think of it like a drop box for all of the sticky notes in your life. It was created by a guy named Ryder and you've probably seen it taking the Instagram and planning community by storm. Check out his video here:
I suggest it because it's the most free, forgiving and flexible form of planning. Think of how you've planned before and the problems you might have had. Have you ever bought a planner and then just not stuck with it? Did you ever find yourself having too much space for some things and not enough for others? The bullet journal is a system that's entirely customizable and all you need to get started is a notebook and a pen.
My Story, System and Materials
Evolution of tools
Simple Roots
I began with a cheap notebook and one pen. And that's how I think everyone should start in the beginning: don't go on Instagram; don't buy all the bells and whistles. Instead, focus on seeing if the tool fits you well—if you can keep up with it. The last thing you need is to spend a whole bunch of money on a technique that doesn't work for you. You wouldn't buy a diamond ring for a person who was incapable of being your life-partner, would you?
Leuchtterm 1917
After I graduated from my cheap notebook, I bumped up into a squared Leuchtterm 1917. And apart from my current system, this was the tool I used the most and stayed with the longest. This is the book that got me through my times at university, and if you're ready to try something with a bit higher quality (i.e. the paper is able to hold ink better, two bookmarks, page numbers and a built-in index), then it's a good brand to do so. Another option is Moleskine.
A-5 six-ring
I decided to give a six ring a try, because I wanted to be able to reorganize my collections to be all in one area, separate from my daily and monthly planning. These things were more constant for me: anime recommendations, wish lists, books I wanted to read, things for the apartment. I stuck with this system the least amount of time. It just didn't work for me: the entire thing felt to big and cumbersome, and I lost my ability to really customize my weeks or index at all. I ended up doing a psuedo-planner thing, probably because I was looking at instagram a lot, and the entire thing didn't jive with me or make me feel comfortable.
Current System?
That all being said, it took me a little less than two years to find my current system. I bujo'd everyday for two years before finding what worked for me.
I don't use a key. 
I don't post my layouts on Instagram (anymore).
I don't use one journal.
I only use an index for collections, but not for my monthly.
Traveler's Notebook
I found I was carrying at minimum four separate journals with me everywhere I went. That got really cumbersome (and gave me some shoulder knots). I decided to go with a traveler's notebook style because….
1. I liked the idea of having one big thing in my bag rather than a lot of little things.
2. I liked being able to take individual notebooks out if I needed.
3. I liked being able to make my inserts whenever I ran out.
4. I was able to separate monthly stuff from yearly goals
The traveler's notebook ultimately provides the most flexibility out of all the methods, for this already very flexible system.
My Notebook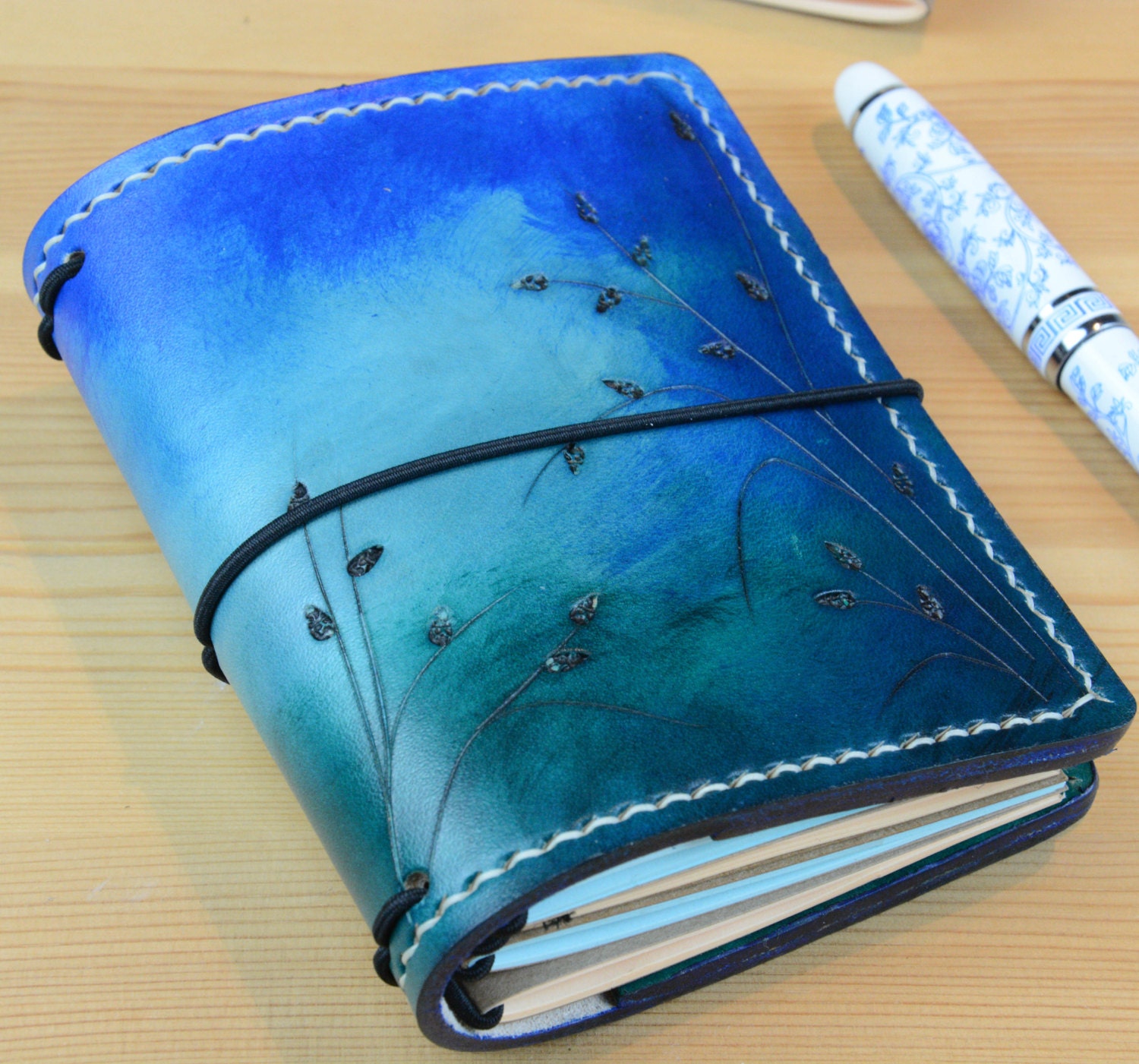 I got my TN from ElrohirLeather. It's handmade in Wales by this lovely woman called Mischa Rose. Her shop on Etsy has so many amazing products that really put the craft back into craftsmanship.
I ordered mine in an A5 size, as at the time I was still journaling in a leuchtterm notebook. The leather is really thick– perfect in my opinion because it feels really sturdy and durable. Plus floppy covers aren't very good for writing on. The colours are so saturated and beautiful. Although they aren't as teal as in the picture, all of the photos from reviews gave me a better idea of how it would look: sky-blue, dark blue and deep green.
I can tell how much care and skill was put into this, and it's definitely worth the price and wait. It took three extra weeks for mine to come, but when I sent a message to Mischa asking about it, she was very speedy to reply and even put a note on mine to rush it a bit. Ultimately so impressed and thrilled with this product. I've been recommending it to everyone!
What's in my TN?
As you can see my TN is   t h i c c   and you might wondering what's all between the cover and elastic bands. The notebooks I mentioned that I carried before were: a leuchtterm bullet journal, a poetry journal,  a fiction journal, and a diary/ nonfiction journal. So I have different inserts for those.
I've also added one for this blog, where I jot down ideas for potential posts, trackers, goals, etc. It's a great way for me to keep all my notes for Annie-Me in one place. I've also broken my bullet journal to separate my monthlies from my collections (more on that in a minute), Annie & Jams' book of Lists as well as included Bible and language study. We'll be mainly looking at my monthly insert and touch briefly on my collections and my mental health inserts
p.s. I'm learning four languages at the moment: Spanish, Japanese, Scottish Gaelic and Hawaiian
Inserts
I make my own inserts. Once you have the base materials purchased (e.g. scrapbook paper, paper cutter, stapler, bone folder, paper/printer), it's much cheaper and prettier to do make inserts yourself. I also found I didn't feel as guilty if I didn't use the insert as much—I would just use the notebook for handlettering practice instead of its original purpose.
Calendar: Monthly, weekly, dailies
To-Do sticky notes now have a home
The first part of my bullet journal is my calendar and lists of things that I need to get done. These can be temporary or long-term, and they vary for monthly, weekly or daily tasks, announcements or to-dos.
My monthly insert always starts with this spread. On the left page I have a calendar with the date, day, and any events happening on that day. On the right page I'll have a dump-zone for all of the goals, tasks and notes for the month including events. When an event pops up, on the right page, I'll be sure to reflect it to the left in the corresponding calendar.
For weeklies, I'll tend to just have a spread dedicated for a running weekly to-do / announcements / goals list, as well as weather and food planning for the week.
For Dailies, I transfer the events and tasks to each corresponding day. For goals, I'll break them up throughout the week so that they might get accomplished.
Trackers
The most important part of my bullet journal are my trackers, and I have a lot of them. They're included in each monthly insert and include: habits, gratitude and prayer, mood and sleep, and finances.
Habits
My habit tracker started with only a few things: tea, showering, food, meds, water, write, read and no self-harm. I set a goal of wanting to write more. Then I quantified that goal by saying I wanted to write every day and then I colored in a little square for each day I wrote. A pretty simple concept, but it really kept me on track.
For the most part, I fill in this tracker at night, apart from one block: medication. Previously, I had had a difficult time remembering whether or not I had taken my meds. It didn't matter if I hadn't gone to class yet, I refused to compromise on my mental health medication and dig myself into a deeper chasm.
Eventually, I added the following to my habit trackers:
Gratitude & Prayer
Gratitude has been proven help bring satisfaction and reduce looking outward with envy / inward with disappointment.
Gratitude, contrary to what we might believe, isn't some toxic positivity movement bloated with hashtags and positive vibes only exclusionism. It's a type of cognitive behavior therapy (CBT) which helps connect us with other people, our environment and ourselves. It makes it easier to recall positive memories, stimulates the pathways of your brain that involved with feeling rewarded and directly counteracts negative feelings and traits like envy, social comparison, narcissism, cynicism and materialism.
You can check out more in the video below!
Mood & Sleep
Mood and sleep tracking isn't a new concept. There are about as many as there are useless training arcs in shounen anime. However, most of these layouts only had one mood per day. As someone who suffers from Borderline Personality Disorder and Bipolar II Disorder, I wanted something that could really show me how often my moods fluctuated and to what severity. Likewise, I wanted to see how my sleeping habits affected these moods. Voila: the following spread was born!
Finances
The final tracker I have is a finance tracker, which tracks bills as well as spending. This is all pretty self-explanatory. In between the "Place and Description" and "Category" is a column that I color-coordinate to match what I used to purchase the item (e.g. cash, check, debit or credit card.)
Collections / Lists
The second insert is for collections: things I want to buy, shows I want to watch, places I want to see, books I want to read… Or, like the above, a concise list of everything I might need for my first apartment. Traditionally, this would be included in with the calendar.
Mental Health Insert
The most important part of my journal is my mental health insert. This piece details my Red and Green Flags, my safety plan, pros and cons of using coping techniques, grounding, and more. I also have the business cards for my psychiatric nurse practitioner, counselor and therapist in there, so that I can contact them. There's a list of my current medications. In the event of a severe crisis, I have all of the hotlines and textlines I need to stay safe.
Inspirational quotes, doodles and filler
One of the parts of my journal that makes it mine are my doodles and inspirational quotes. These aren't essential to the process, but it helps me, sorta like how people use adult coloring books now. My drawings and hand letterings aren't amazing, but they don't have to be. They remind me that my BuJo isn't for anyone else: it's for me, and it's as unique as I am. While it's not perfect, it's mine, and that makes me smile.
Take care Annieme-niacs!
With smiles,
Annie