Christmas means a day off (among other things), and a day off means…
an all-day Stardew Valley and anime binge.
Annie…? A day off…?
Yes, my homies, Annie has finally gotten the all-clear to return to work!! I'm working as a marketing peep for a publishing company and hopefully it'll give me some great experience so that I can land that dream job an change an industry! I'm also working with some great, talented and crazy-smart people who happen to be otakus! With that said, I've not been keeping up on my anime, webtoon comics or twitch streams.
But I have watched a couple wee somethings! Here's a quick peek:
Chi's New Address
Chi looks almost exactly like Zelda, and I started watching this one because I miss my little Smelly Zelly terribly. The show consists of super-short episodes that are like three-minutes each. It's oozing cuteness with kitten goodness and follows this super-wholesome family around. Not a series with a lot of depth, but it doesn't need to be. That's not what it markets itself as. Give it a watch if you want some quick light-hearted fluff.
Bakemonogatari
The Monogatari series might be the best or most impactful series of the 2010s. Bakemonogatri, like Noragami, enjoys mixing and mashing genres into a lovely smoothie for my consumer-pleasure. The series is ridiculously quick, dizzyingly so but it still delightful and fun. I welcome and relish this deliberate confusion.
After Mama passed away, the holidays have always been really difficult for me, probably because she embodied them. My mother had this unbreakable jovial nature, that was somehow completely genuine and sincere. She was a person who made a home and brought a house to life, especially during the holiday season.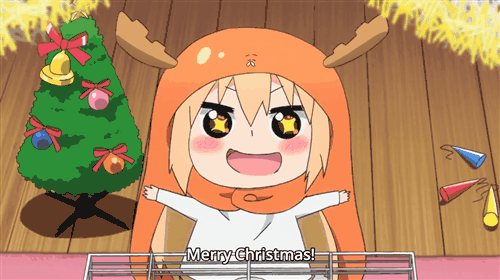 As always, I hope you're taking care of yourselves. This time of year can be really difficult for a lot of us, myself included and I wish I could give each and every one of you a hug and a cup of cozy tea.
Even though my holidays aren't the same as they used to, I still managed to have a good day today by watching anime and playing Stardew with Jams online (thank you discord and concerned ape for being the MVPs). I hope you were able to find comfort today, whatever your beliefs or traditions are. You matter.
Take care and watch on, Annime-niac!
Annie