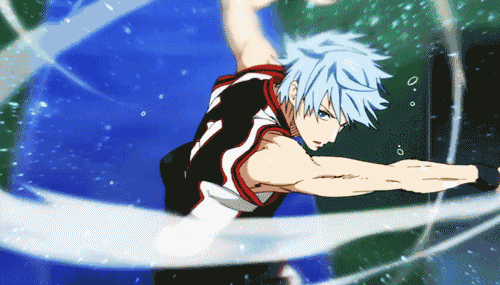 Have you taken my latest Crunchyroll quiz? No? Well, you should! It's "What Sports Anime Should You Watch", and if I don't say so myself, it's a pretty bangin' one. I put a lot of soul into that piece, and hope people enjoy taking it as much as I enjoyed making it. To be honest, though, I wasn't able to really say what it is about sports anime that I love. I ended up wanting more, so this post is my way of expressing that, as well as making my recommendations to everyone.
Y'all know I have an addiction to sports anime. This is known. Literally nobody is surprised, Annie, don't be redundant. But when I think about the why I love the genre, I sometimes at am a loss for words. There's something about the series that leave me aching for more. Maybe it's the camaraderie; Maybe it's the competition; Maybe it's the fact I have the coordination of a cucumber and am living vicariously through the characters. A dream that cannot be, if you will. Regardless, sports anime are just built different.
Common Tropes
Newbies and Explaining the Rules
Many protagonists tend to be new to the sport. This allows the writers to explain the sport in detail, since the audience likely doesn't know the rules either. We feel like we're learning with the characters, rather than being dumped into a world feeling like we don't belong. This immersion is key to the genre.
The Protagonist's Superpower
Because the protagonists tend to be new, they have to compensate for their lack of experience. This often looks like some sort of power-up, something only the main character can do. For Hinata from Haikyu!! it's his speed; For Oda from Yowamushi Pedal, it's his cadence; for Kuroko from Kuroko's Basketball, it's his lack of presence. The main characters need something that makes them different and special, and more often than not, that doesn't just mean the color of their hair.
The Third Years' Departure and the Last Hurrah
With high school team sports — which make up the vast majority of the sports anime genre — there's an underlying tension regarding seniors/senpai and sending them off with a win, often a championship. There's a pressing feeling of this team can never be the same, because it won't be made up of the same people. Doing so gives a big drive for the story and makes it so there's a finite-ness to everything that happens.
Championing the Underdog
This one is obvious. Who honestly likes watching the same best teams smash every tournament? No one. Rooting for the underdog seems to be coded into our DNA, and watching someone battle through adversities is endearing. There's something satisfying about starting from the bottom and fighting all the way to the top which gives us this feeling of pride and root for the Davids in the face of Goliaths.
Making the Mundane Melodramatic
Sports anime tend to be slice of life series. They're a glimpse into a world we could live in, but often don't. And while some of the situations appear mundane or boring (e.g. training montages), they're able to turn it into something with high-stakes. Even something as small as utilizing slow-mo is a way of building tension of will they make the game-winning play or not.
Recommendations
Haikyu!!
Everyone has heard of Haikyu!!, and there's good reason for that. Easily one of the most popular sports anime to date with its dynamic characters and beautiful animation. The series follows Hinata, Kageyama and the rest of the Karasuno High School's team as they aim to go as far as they can in the volleyball world.
Good for: those who are new to the genre and want an S-tier option.
Wanna know more? Read my reviews on Season 1, Season 2, and To the Top!
Yuri!!! on Ice
I don't know what y'all were doing during winter of 2016, but if you were a part of the anime scene at all, you know Yuri!!! on Ice took the world by storm. It follows Yuri Katsuki, a Japanese figure skater down on his luck until Viktor Nikiforov, his childhood idol, appears — suggesting he coach Yuri for a year.
Good for: those who want some emotional depth with their sport. LGBTQIA+. Romance. It also centers around adults rather than high school students.
Wanna know more? Read my review!
Kuroko's Basketball
Teikou junior high is home to "The Generation of Miracles", five incredible players with unique talents. They crush though the competition, and are crowned champions three years in a row. Kuroko, an unsung hero from the squad known as "The Phantom Sixth Man", has a lack of presence that allows him to slip by unnoticed.
Now in high school, Kuroko and Seirin's basketball team look to take on the rest of The Generation of Miracles, determined to show the world what basketball means to them.
Good for: those who want a bit of superhero powers with their sport, fans of quieter protagonists.
Free! – Iwatobi Swim Club –
It would be an absolute crime on humanity to not mention Free. It follows Haruka Nanase, a gifted swimmer who has walked away from the sport. However, when he's challenged by friend-turned-rival, Rin Matsuoka, Haruka decides to join the swim club in the hopes of defeating Rin.
Good for: newbies dipping their toes into the water.
Yowamushi Pedal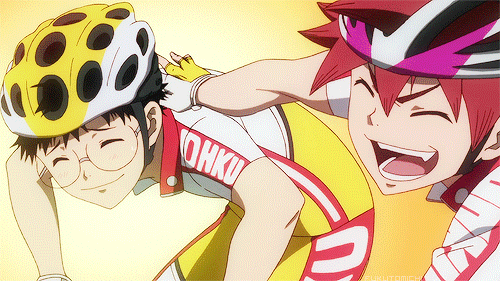 A personal favorite of mine, Yowamushi Pedal has got all of the great sports anime tropes done right. It follows Sakamichi Onoda, a self-proclaimed otaku eager to join his high school anime club. The guy goes so far as to bike to Akihabara back and forth many times, and on a "mamachari" or "Mommy Bike" — a rundown city bicycle designed for short rides — no less. But with his high school anime club having been disbanded, Sakamichi ends up joining the Sohoku cycling team as they look to take the title at Inter High Competition. This one will have you singing "Hime-Hime" in no time.
Good for: those who have seen a couple of the bigger titles, love the tropes, and want to see more.
Wanna know more? Read my reviews on: season 1, season 2, New Generation and Glory Line!
Megalobox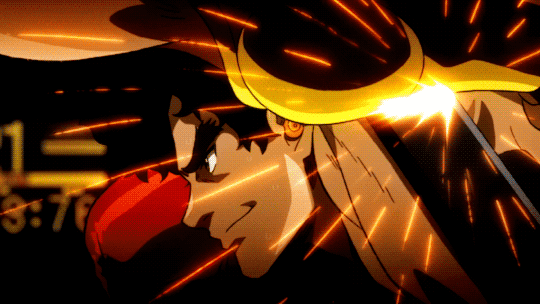 This series has grit. Megalobox follows Junk Dog / Gearless Joe on his quest to become the best of Megalonia — a tournament of a sport that combines boxing with mechanical enhancements. Despite boxing being a PvP sport, there's plenty of teamwork in this one. Join Gansaku Nanbu and Sachio as they witness Joe's journey to greatness.
Good for: those who claim they don't like sports anime. Fans of Cowboy Bebop and Samurai Champloo will love this one. Follows an adult protagonist rather than high school students.
Want to know more? Read my review!
Ping Pong the Animation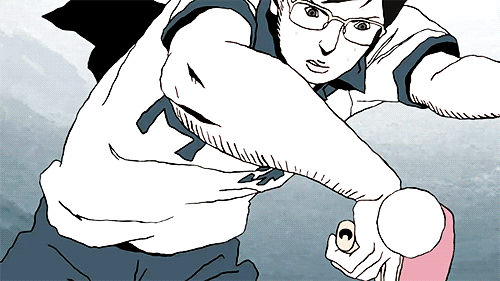 Truly unlike any of the sports anime on this list, Ping Pong the Animation combines a striking aesthetic with masterful character craftsmanship. The series shines in getting a close look at the psyche of players, while simultaneously warping the common good vs. bad trope. Additionally, there's a commitment to exploring the role family can have on these athletes.
Good for: those who like the abstract and subverting expectations.
Chihayafuru
Chihayafuru isn't your average sports anime. It concerns the Japanese card game, Karuta involving the "Ogura Hyakunin Isshu", or "Hundred Poets". It centers around Chihaya Ayase, a high school girl with crazy-fast reflexes. She has her sights set on becoming the best Karuta player in the world and taking the title of Queen. The series also sports an impressive love triangle, and is basically quirky teenagers flirting with cards.
Good for: those who want a little love in their sports anime. Fans of Jousei.
Wanna know more? Check out my review!
Stars Align
In Stars Align, the boys' soft tennis team is on the brink of disbanding due to under-performing in comparison to the girls' club. It follows captain Toma Shinjou and his old friend and new transfer student, Maki Katsuragi, as they seek to revitalize the team and improve their record. However, there are problems holding back these players that run deeper than the sport itself, and the series showcases some of the darker undercurrents of being a middle school student.
Content Warning: abuse.
Good for: those who want a little darkness in their sports anime. LGBTQIA+.
Run Like the Wind
This one follows residents of Chikusei-sou, the Kansei University Track Club's dormitory, who look to take on the Hakone Ekiden — a marathon relay race for university teams. The catch is that apart from two individuals, all of the characters are novices, and most aren't too thrilled at the idea of competing.
Good for: Those who want a heartwarming and inspirational story about self-improvement. Follows adults rather than high school students.
Tsurune
Easily the most beautiful anime on this list, Tsurune follows Minato Narumiya, a prolific archer who ran away from the sport after an incident. With the support of his friends and the inspiration of a mysterious archer, Minato again takes up the bow as their archery club aims to win a tournament.
Good for: those who like a little (or a lottle) drama in their sports anime. Fans of gorgeous animation.
Hinomaru Sumo
Big. Heavy. These are attributes that define the perfect body of a sumo wrestler. Ushio Hinomaru has neither, but a fire in his heart to earn the title of Hinoshita Kaisan — the highest rank in professional sumo. Short but sturdy, Ushio rallies new and old members of the Odachi High School Sumo Club, with the goal of making it pro.
Good for: Big fans of the underdog, David vs. Goliath mentality.
Iwakakeru! -Sports Climbing Girls-
Iwakakeru! -Sports Climbing Girls- follows Hanamiya Girls' High School's climbing club as they look to be victorious in many sports climbing tournaments and competitions. The newest member, Konomi Kasahara, uses her experience with puzzle games to determine the best routes to scale the walls. While this one is paced a little wonky, it's still a fun watch.
Good for: those wanting some girl representation in the sports anime world. Fans of puzzle games. It's a good one if you like protagonists who are new to the sport.
Salaryman's Club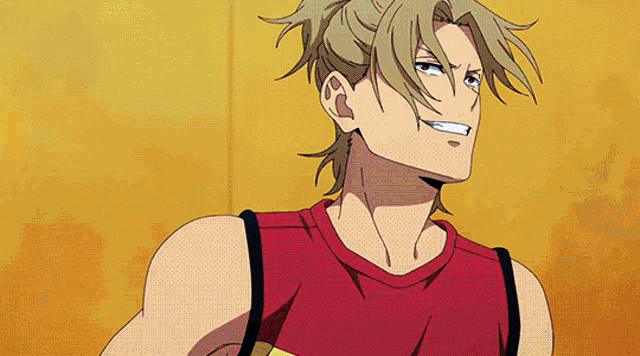 A more recent addition, Salaryman's Club is all about badminton. It follows Mikoto Shiratori, a prolific badminton player who hasn't been able shake an incident in high school. He finds himself joining Sunlight Beverage company under their sales division and their badminton team. Despite his reluctance, he's paired up with Tatsuru Miyazumi, a flashy senpai who aims to get Mikoto back to loving doubles.
Good for: Follows adults rather than high school students. Fans of pair-camaraderie more than team-camaraderie.
Burning Kabaddi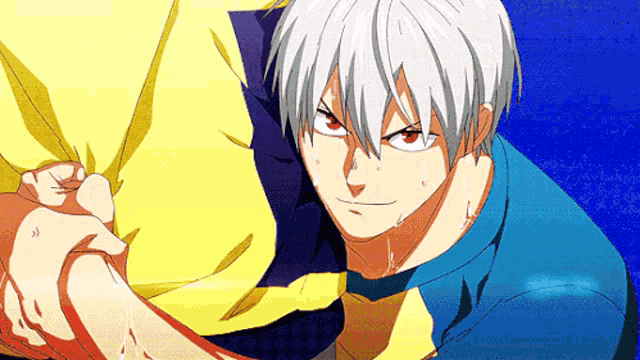 Yoigoshi Tatsuya was once known as a sports prodigy and star soccer player nicknamed "Yoigoshi the Unstoppable". Now, he's severed all ties with his athletic life and chosen to walk the path as a streamer, despite many clubs trying to recruit him. Faced with an enticing deal and some mild coercion, Yoigoshi joins Noukin High School's kabaddi team, which tackles an interesting running/combat sport.
Good for: fans of sports non-ball sports. Those who like tsundere protagonists who don't want to get into the sport but end up loving it all the same.
Scorching Ping Pong Girls
At Suzumegahara Middle School, the girls' ping pong team is full of promising talent. And while each player has great signature skills, they've never made it further than community tournaments. When Koyori Tsumujikaze joins the team, she brings with her an intense passion for the sport, invigorating the rest of the girls, and they focus their sights on the national tournament.
Good for: those wanting some girl representation in the sports anime world. People who want a less serious, cutesy version of Ping Pong the Animation. Those who like Saki might also enjoy this one.
In Conclusion…
There's still plenty of sports anime that I've not seen or haven't mentioned here. Fighting Spirit (aka Hajime no Ippo), Prince of Tennis and Slam Dunk immediately come to mind that are ones which could be added to this list in the future. But ultimately, here's several that can get you started with that I recommend checking out. Now go out there and enjoy all the sports anime this world has to offer! I promise there's something out there for everyone.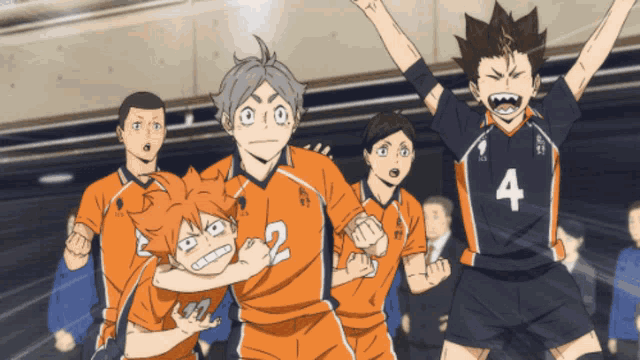 What's your favorite sports anime? What do you like about the genre? Let me know in the comments below!
Watch on, Annieme-niac!
Annie